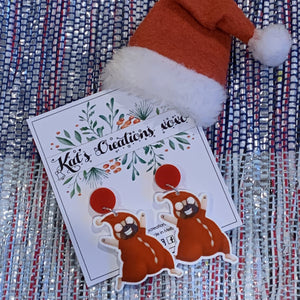 Pig the Pug Christmas Dangles
If you think the kids will make a mess at Christmas, you haven't met Pig! Have a look at our other pug earrings.
These dangles are perfect for dog lovers, and teachers!
These dangles are made of super lightweight acrylic approx. 3mm thick. Comfortable to wear every day in the lead up to Christmas.
Studs are surgical steel- perfect for even the most sensitive of ears.
Details:
Top stud- 12mm
Pug- 35mm x 32mm